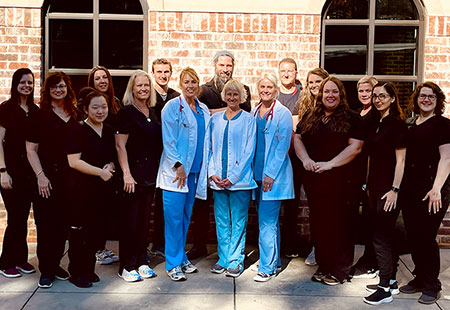 About Us
Our animal hospital in Cumming was founded May 14, 2007 by Dr. Lisa Hillier and Dr. Cheryl O'Neal. They worked together at Roswell Animal Hospital for 17 years before partnering to open South Forsyth Animal Hospital. After more than seven years in our first location, we moved in late 2014 to a custom-built, free-standing facility designed to make your visit comfortable and stress-free.
As a privately owned practice, we are dedicated to making you feel like family and can provide a level of time and attention that is not possible at a corporate owned practice. Our doctors and our experienced veterinary staff will provide your pets with compassion, comfort, and excellent veterinary care. Do not hesitate to ask for any additional information you might need. We look forward to serving you and your pets for many years.
Our Philosophy
Our Goal Is...
To establish a long-term relationship with you and your pet. Our pets are part of our family and bring so much joy to our lives. We want to share that joy with you and do everything possible to further that bond. That means we want you to be part of our family, not just our next appointment.
We will strive to make each visit to our hospital as pleasant as possible. In addition to excellent medical and technical skills, our veterinary staff also possesses kindness, compassion and a sense of humor. They are also very generous with our supply of dog and cat treats!
At South Forsyth Animal Hospital we firmly believe that establishing a strong, life-long relationship with your veterinary care provider is key to optimizing your pets' health as well as their healthy relationship with your family. Please let us know how we can help!
Our Vision Is...
To foster a healthcare team in which the goal of every member is to offer each individual client and patient the most superior medical care as well as genuine support and compassion. To promote the development of an environment for this team in which each member is not only challenged and fulfilled by his job, but enjoys the actual hours spent at work. To train each member of this team so they feel confident in the importance of their contribution towards the mission/vision. To have each member of this team feel they are adequately compensated financially, mentally, and emotionally for their investment and believe they are a permanent, irreplaceable contributor toward our success.
Our Mission Is...
To offer the highest-quality South Forsyth veterinary care, including superior medical diagnoses and treatment, thorough preventative health care programs, and excellent client communication. To treat each patient as a whole, not just a series of problems. To spend time with each client, thoroughly answering all questions and compassionately explaining all issues and concerns. To provide a warm, "non-sterile" environment with a caring veterinary staff that functions as a team, ensuring that each client is certain we have cared for their pet as if he were our own.
Location & Hours
South Forsyth Animal Hospital
2200 Old Alpharetta Road
Cumming, GA 30041
Phone: (770) 889-0737
Fax: (770) 889-0747

Monday, Wednesday, Friday: 7:30am - 5:30pm
Tuesday, Thursday: 8am - 5:30pm
Saturday: 7:30am - 12pm

Email us at southforsyth@bellsouth.net