Registered Veterinary Technicians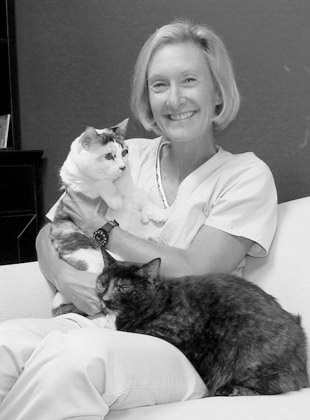 Laura Ballantyne, RVT
Our Chief Registered Veterinary Nurse, Laura Ballantyne, is retiring at the beginning of July. She has worked as a veterinary nurse for many years and has worked along side Dr. Hillier and Dr. O'Neal for 22 years. She has been a crucial part of our team who is deeply passionate about everything she does. Her compassion and dedication to our patients and their owners is unmatched. She dedicates so much time to patient care; she makes sure every single patient is as comfortable as possible while staying with us. Laura's compassion also extends to her coworkers, who she cares about a lot. She is always so kind and considerate to everybody. Her wonderful spirit as well as her positive attitude are highly infectious to be around. We are going to miss her dearly, however, we are all so happy and excited for her to be able to travel more and have more time to dedicate to doing the things she loves.
We all love you, Laura! We wish you the best of luck and are eager to hear about all your retirement endeavors!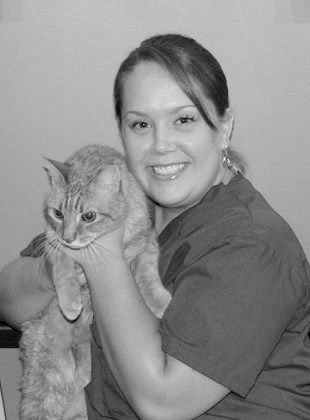 Erin Kutner, RVT
Erin Kutner has worked at South Forsyth Animal Hospital since July of 2008. She has dual Associate's degrees in Veterinary Technology and Health Sciences. In addition to being licensed in the state of Georgia, she also passed the Veterinary Technician National Exam in 2008.
"My co-workers are like my second family," says Erin. "I'm one of those lucky people who wakes up every morning looking forward to their job. I enjoy the variety my profession brings, and I love working with a great team that provides high-quality veterinary care."
At home, Erin has two cats: Stella and Bayo. In her free time she enjoys shopping, fishing, watching movies, going to the beach, and spending time with her husband Stephen and two sons Liam and Eli.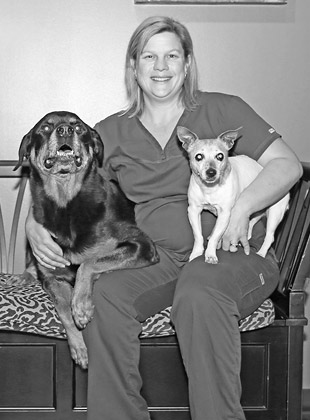 Kim Gunter, RVT
Kim Gunter joined our team in November of 2013 and has 31 years of experience in the animal care field. Her favorite parts of her job are assisting in surgeries, dental procedures, and caring for hospitalized patients. She is a licensed technician in the state of Georgia.
"I really like how each employee treats every pet as if they were their own," says Kim. "I appreciate the quality of veterinary care at South Forsyth Animal Hospital, which helps further my knowledge."
At home Kim has four dogs: Reine, a Rottweiler, Brody, a toy fox terrier, Champ, a German Shepherd, and Harley, a Golden Retriever. She also has a cat named Tinsel and a ferret named Leo. In her free time Kim enjoys camping,boating and spending time with her husband, daughter, and son.
Veterinary Technicians
William Case Hillier, Veterinary Technician
Case Hillier is one of our part-time Veterinary Technicians. Case has been volunteering and working with South Forsyth Animal Hospital since 2007 and grew up in the animal field helping his mother for as long as he can remember. Some of Case's responsibilities at the hospital include assisting the veterinarians by collecting and maintaining patient records, administering medications and treatments, taking radiographs, preparing patients for examinations, collecting test samples, and more. He posses a B.S. in Biomedical Science from Troy University and has been accepted to the University of Georgia College of Veterinary Medicine's Class of 2022.
His favorite aspect about working at South Forsyth Animal Hospital is being able to help animals in need and watching families reunite with their pets after a healthy recovery. "South Forsyth Animal Hospital is unique not only because of the extensive experience of the veterinarians and veterinary staff," Case says, "but also the dedication of all our employees to patient care and showing compassion to all pets and their families."
In his free time, Case enjoys running, and working out, and considers healthy living a great passion of his. Case also enjoys reading about current events and emerging information. He has 3 cats and 3 dogs, most of whom are family pets. Momba, a feline, is a rescue that Case brought home from Troy University as another member of their furry family.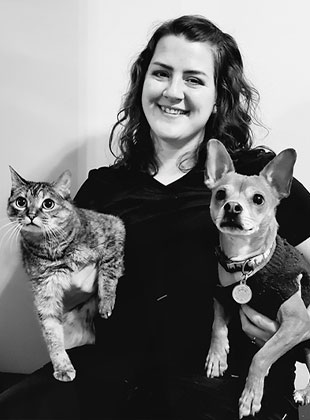 Ashleigh Budke, Veterinary Technician / Surgery Technician
Ashleigh Budke has worked at South Forsyth Animal Hospital since April 2019. As a Veterinary Technician / Surgery Technician in training, Ashleigh is responsible for various tasks including holding patients for exams, taking vitals during surgery, setting up surgery, monitoring patients and making sure patients are comfortable. The best part of her job is getting to interact with a variety of cats and dogs, as well as witnessing the amazing surgeries that save pet lives.
"Everyone is kind and compassionate. The doctors and staff all care on a level I haven't seen before at an animal hospital," Ashleigh says. "Every day is different, and I'm constantly being challenged and learning something new, which I love and enjoy."
Ashleigh has a Bachelor of Science from Middle Tennessee State University and has been working in the animal field for about four years. At home, Ashleigh has four dogs. Two boxers named Roxxy and Brynlee, a boxer/lab named Jaeger, and a chihuahua named Alfie. She also has four cats; a grey tabby named Misty, two domestic long hairs named Marley and Minxie, and a tortie cat. During her free time, she likes spending time with her family and friends, visiting Helen or Dahlonega, watching YouTube, shopping, going to concerts, and traveling.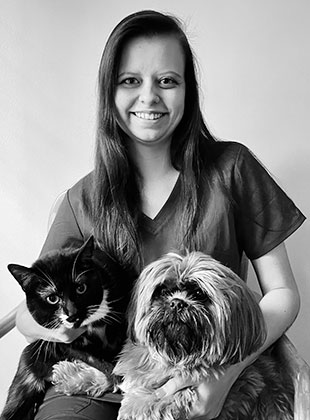 Paige Price, Veterinary Technician
Paige is currently working toward her Veterinary Technician degree at Penn Foster College while working with us full time. She started working with us in June 2021 and has been working with animals professionally for over two years. "Each and every one of us all have the same goal of treating each patient with the highest quality care," said Paige "We are a family, and we treat each patient as if they are a member of our own family."
Paige loves creating relationships with you and your pets! At home, she is a pet parent to a dog, Katie, and cat Shelby. Paige spends her free time cuddling with her pets, hanging out with her boyfriend, and watching her favorite baseball team play.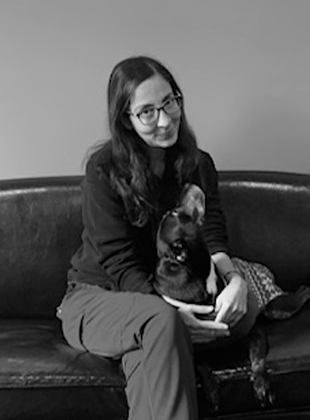 Maria Belen Vargas, Veterinary Technician
Maria Belen Vargas has worked at South Forsyth Animal Hospital since July of 2021. As a Veterinary Technician, Maria is responsible for various tasks including assisting Doctors in getting an accurate medical history, assisting in the exam room, and performing laboratory and digital prescriptions. Of her position at South Forsyth Animal Hospital, she most enjoys taking care of her patients when they are hospitalized or in an exam room.
"My coworkers and Doctors have a ton of experience, knowledge, and compassion in the veterinary field," she say of why she enjoys working at South Forsyth Animal Hospital.
Maria has a Doctorate in Veterinary Medicine & Animal Husbandry and has been working in the animal field for ten years. At home, Maria has a mixed-breed dog named Faran. In her free time, she enjoys reading, playing computer games, hiking with her dog, horseback riding, and watching movies.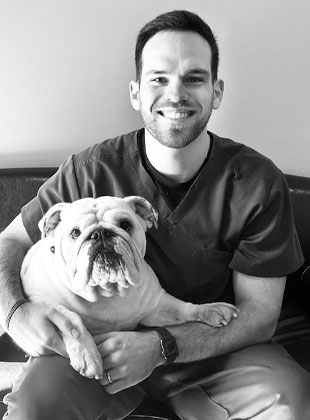 River Babb, Veterinary Technician
River joined our staff in January 2022 as a part-time Veterinary Technician. As a Veterinary Technician, a few of River's daily responsibilities include assisting Veterinarians in exam rooms, collecting samples for lab work, monitoring ICU patients, and taking x-rays. Seeing the positive effect that the South Forsyth Animal Hospital staff can have on a patient and their family is River's favorite part of the job.
River graduated from the University of Georgia in 2019 with a bachelor's degree in Avian Biology. After working in the poultry industry for over 2 years he has re-enrolled in classes at Kennesaw State University and hopes to pursue a career in Veterinary Medicine.
At home, River loves relaxing with his wife and his five-year-old Bulldog, Rhea. Listening to music, watching movies, and cheering on the Georgia Bulldogs in the fall consumes much of River's free time.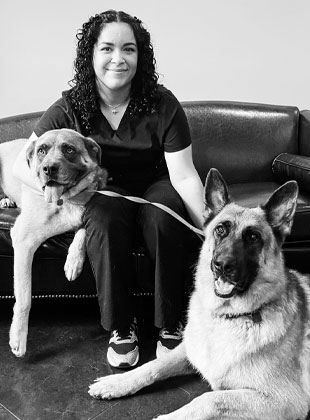 Katalina K. Ramirez, Veterinary Technician
Katalina has been a full-time veterinary technician with us since April of 2022. Known for her bubbly and friendly personality, she loves connecting with owners and finding the best ways to care for their pets. Her daily duties include assisting doctors, caring for patients and their owners, and filling and administrating medications. Katalina first started working at an animal hospital in 2016, where she was cross-trained in assistance, kennel, and reception. Since then, she's worked at five other animal hospitals.
Asked about why she loves working at South Forsyth Animal Hospital, Katalina says, "Everyone is super sweet and welcoming. The doctors are also so amazing and so helpful, informative, and detailed. The level of organization is also amazing, as it improves quality of care for pets and owners. Having worked at four other practices before this one, South Forsyth Animal Hospital is definitely on top."
Katalina has two sibling German Shepherds named Oso and Lobo and a Pitbull mix named Canelo. When she's not working, she loves hiking with her dogs, baking Mexican and American desserts (her favorites are chocoflan and cheesecakes), and weightlifting at the gym.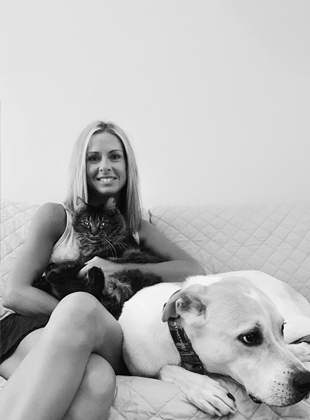 Nikki Zinn, Veterinary Nurse
With over seven years of previous experience at animal clinics, Nikki has been a veterinary nurse with our South Forsyth Animal Hospital team since April of 2022. She's currently enrolled in Penn Foster for RUT. Besides helping the pets, she enjoys working with the staff and doctors as a team.
"Taking care of animals has always been in my heart and soul. What drove me to South Forsyth is the family atmosphere."
Nikki has one lab mix rescue named Tucker and a cat named Ava. When she's not working, she loves being outdoors and adventurous as well as spending time with her three children Brayden (11), Reagan (9), and Cameron (7). Cheering for Brayden as he plays for his Georgia Jacket baseball team keeps her busy–Cameron is following in his big brother's footsteps and also plays baseball. Nikki also coaches 8U softball for her daughter and her team. Giving love to the animals at the Humane Society with her kids is a frequently fun excursion.
Veterinary Assistants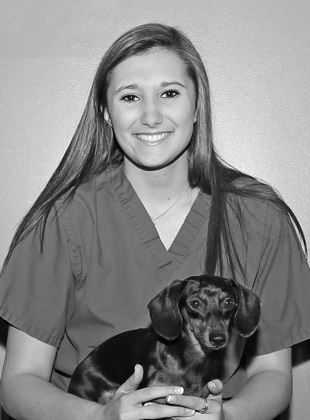 Townes Nicole Hillier, Veterinary Assistant
Townes Nicole Hillier is a veterinary assistant at South Forsyth Animal Hospital. She is a pre-veterinary student at Mississippi State University and has worked in veterinary hospitals since 2007.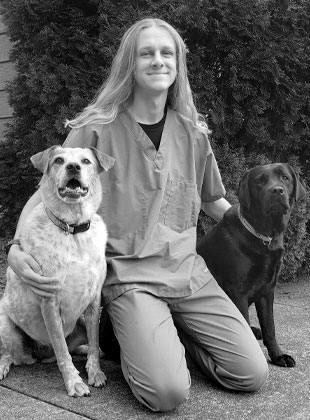 Grady O'Neal, Veterinary Assistant
Grady has worked at South Forsyth Animal Hospital since 2017 and is attending Mississippi State for Aerospace Engineering. Grady graduated from Lambert High School and ran cross country. In his free time, he enjoys playing disc golf and hanging out with friends. He has two dogs, Hula a Labrador Retriever and Kate a Mutt.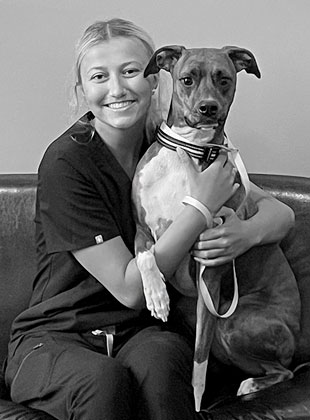 Carleigh Hillier, Veterinary Assistant
Carleigh has been with South Forsyth Animal Hospital since July 2020. She graduated from Buford High School and will be attending University of Georgia for Biological Science. Carleigh has 4 dogs and 3 cats and in her free time she likes to play volleyball and spend time with her friends.
Client Services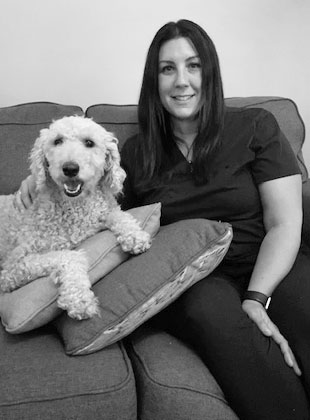 Sarah Legendre, Practice Manager
Sarah Legendre joined our team in May of 2021 after relocating to Georgia with her family. Sarah has a bachelor's degree from the University of Southern Maine.
Sarah's favorite thing about SFAH is how dedicated the doctors and staff are to creating a warm and caring environment for our clients and their pets. "We have the most caring clients who absolutely love their pets and it is a joy to see that relationship every day!"
At home, Sarah has a sassy labradoodle named Scout. In her free time, she enjoys cooking, hiking, exploring the State of Georgia and spending time outdoors with her family.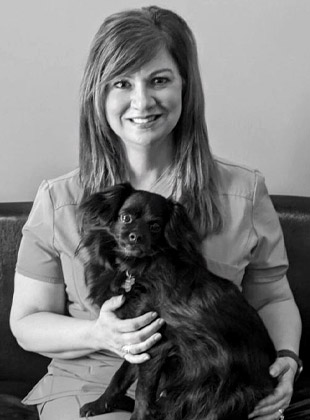 Lisa Kramer, Receptionist
South Forsyth Animal Hospital is happy to introduce Lisa Kramer! Lisa joined our team as a part-time Receptionist in August of 2019. She is responsible for scheduling appointments, answering phones, greeting clients as they come in, and assisting our visitors with anything they may need while they wait in our office. We are so grateful for her wonderful, welcoming attitude and her talent for facilitating a positive experience for all of our clients and their pets. Lisa has an Associates's degree in Art from the College of DuPage in Wheaton, IL.
When asked why she enjoys working at South Forsyth Animal Hospital, Lisa said that all of the doctors and staff are very friendly and provide excellent care for their patients. The environment is warm and welcoming, and the community feels just like a family. We are so happy to have Lisa as part of the South Forsyth Animal Hospital family! Lisa has three pets of her own: Cider (6-year-old Orange Tabby), Theo (4-year-old Russian Blue Tuxedo), and Charlie (2-year-old Papillion Chihuahua mix). In her free time, Lisa enjoys reading, gardening, playing piano, baking, hiking, and spending time with her family and friends.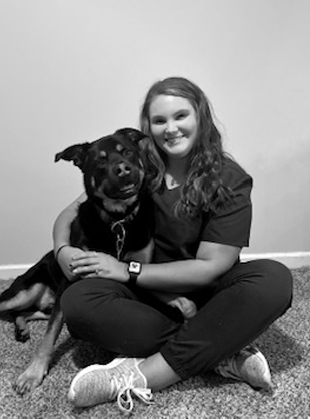 Alexis Hasbrouck, Receptionist
Full-time receptionist Alexis Hasbrouck joined the team in August of 2021, providing pet owners with a positive experience through answering phones, greeting visitors, and assisting anyone who is waiting in the office.
Alexis has a German Shepherd mix named Bear–in their free time, they both love hiking and camping. She also has a fondness for photography.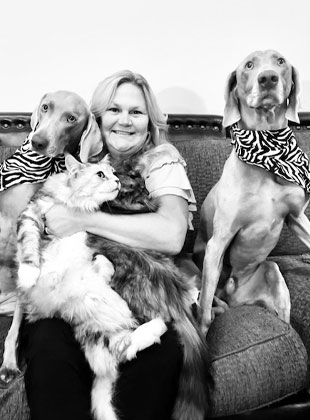 Paula Barber, Receptionist
Bio coming soon!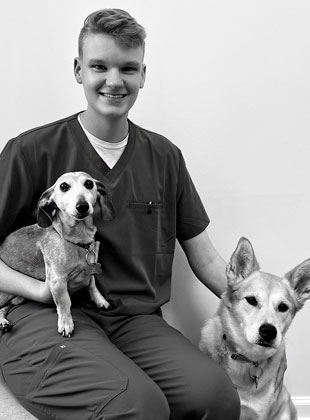 Reagan Woods, Receptionist
Reagan engages with our clients and makes their day better through his happiness and positivity! You'll find him making appointments, answering phones, and creating an overall comfortable atmosphere for our clients. He has been working with us full-time since March of 2022.
"I love working at SFAH because it's such a welcoming and warm atmosphere and all the staff are so nice. It's such a wonderful atmosphere."
Reagan has two dogs: a four-year-old Canaan and 15-year-old Dachshund.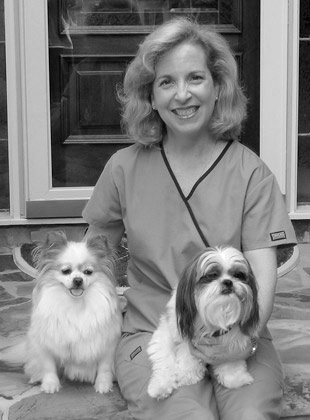 Beth Sowell, Volunteer
Beth Sowell has been with us since July of 2007. She joined the team after retiring from her job at BellSouth/ATT, where she worked for 30 years. "Drs. Hillier and O'Neal had been my pet's doctors for many years," she says. "And I had always thought I would like to work in a veterinary hospital after retirement. It was a match meant to be!" Beth recently retired from her position as office manager but still volunteers here, assisting in a variety of areas throughout the hospital.
Beth has a Bachelor's degree in Industrial Engineering and Master's degree in Management of Technology, both from Georgia Tech. At home, Beth and her husband Gary have two dogs: Shih Tzu mixes Ginny and Carlie.
Groomer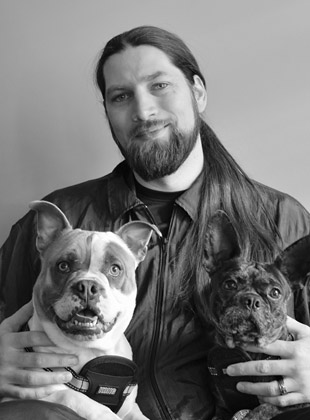 Charlie Matthews, Groomer
Charlie Matthews joined our team in January of 2015. He has over 20 years of experience in the animal care field. A highlight of his job is bringing a freshly groomed pet out and seeing the positive reaction from their owner.
"I like working at South Forsyth Animal Hospital because their vision of customer service and helping pets and their owners perfectly matches my own," says Charlie.
At home, Charlie has four dogs: Chloe, a Boston terrier; Boston terrier/French bulldog mixes named Cash and Kai; and a Chihuahua named Little. He also has 3 cats named Nova, Beans and Jasper, as well as a milk snake named Stripey Snake. In his free time he enjoys gardening, hunting, hiking, cooking, and spending time with his wife Nichole and three sons.