Veterinary Dental Care
A dog or cat dental cleaning at our hospital is much more than just removing tartar from the teeth. Our goal is to restore your pet's mouth to its normal, fresh, healthy state. Having your pet's teeth professionally cleaned is the single most important medical treatment you can give that will result in long-term health. We are passionate about veterinary dentistry. Studies show periodontal disease results in significant injury to a dog or cat's liver and kidneys. No other organ system is more important than the oral cavity. At South Forsyth Animal Hospital, we are serious about keeping your pet's teeth as healthy as possible.

Each cleaning performed in our animal hospital in Cumming includes the following steps:
A general exam
An oral exam
Pre-operative organ testing, based on age
Use of an IV catheter and fluids
Use of Propofol anesthesia, intubation and in-depth monitoring
Assistance by only Registered Veterinary Technicians
Each dentistry involves:
Calculus removal from the crown through sub-gingival scaling
Root planing
Curettage where indicated
Teeth polishing
Digital dental X-ray
Irrigation of periodontal pockets with chlorohexidine solution
Fluoride treatment
Dental charting
Therapy, if indicated
Home care instruction on oral hygiene, featuring a post-procedure meeting with the technician to review teeth brushing or other custom-designed recommendations.
Digital Dental X-Ray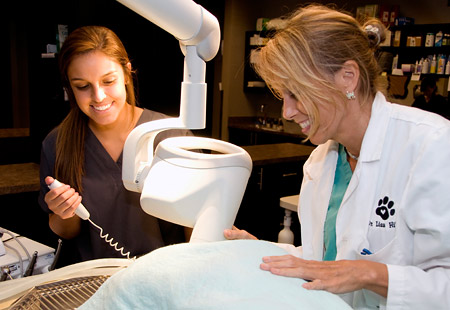 Radiography is critical for accurate evaluation of periodontal disease, as 60% of the disease is hidden below the gum line. Our mobile digital X-ray machine allows us to diagnose tooth root abscesses, resorptive lesions and other oral pathology, as well as evaluate the extent of bone loss and tooth fractures. None of this could be accomplished by visualization alone. Dental radiographs are an important tool in helping your pet achieve and maintain good oral health.
Dentistry is a vital part of your pet's heath care. Please do not hesitate to ask us questions!