Proudly Serving Our Community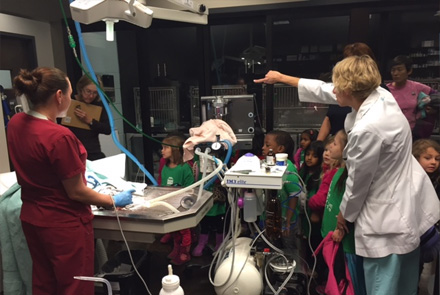 Hospital Tours
The doctors and veterinary staff regularly lead tours of the facility for area day care groups, scout troops and other organizations. Children are able to see the hospital, watch equipment demonstrations, and learn about caring for cats and dogs.
High School Intern Programs
Since 2008 South Forsyth Animal Hospital has partnered annually with several area high schools to offer selected students an opportunity to spend time at the hospital every week, gaining hands-on experience and knowledge in veterinary care. These students receive school credit for their time spent here. Many of these interns have become employees, and a few have been accepted into veterinary school.
Open Houses
From time to time, South Forsyth holds an Open House to thank their loyal clients for their patronage and to welcome community residents to learn more about their hospital. Facility tours, equipment demonstrations, presentations by local trainers, giveaways and raffles are just some of the special things we offer at these events. Our most recent Open House raised nearly $400 for Canine Assistants, a local non-profit organization that trains and provides service dogs to enhance and improve the lives of children and adults who have physical disabilities, seizure conditions, or other special needs.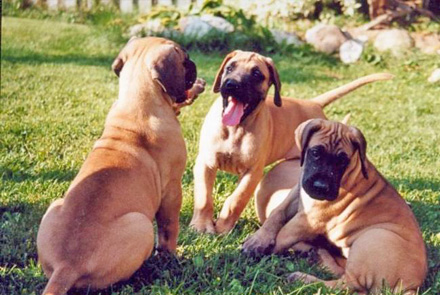 Puppy Socials
Every few months, South Forsyth hosts puppy socials to assist clients in integrating new pets into their households more easily and to help them acclimate their pups to new environments. These events are great fun for both the puppies and their families.
Sponsorships
South Forsyth supports a number of school sports and other programs each year by sponsoring their teams and special events.
Community Involvement
Every quarter, South Forysth Animal Hospital supports a different local, non-profit organization. We partner with our clients and others in the community to collect a variety of pet supplies, including blankets, beds, food, toys, leashes, cleaning items, and more, to donate to each group.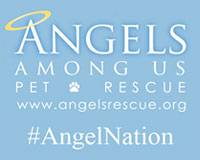 Angels Among Us
During the first quarter of the year, we provide supplies to Angels Among Us Pet Rescue, a volunteer based organization dedicated to rescuing dogs and cats from high-kill shelters in north Georgia. Angels Among Us operates through a network of foster homes in the north metro Atlanta area. Check them out at angelrescue.org.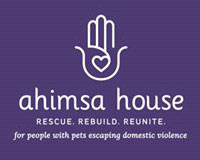 Ahimsa House
In the spring, we support Ahimsa House, a group dedicated to addressing the link between domestic violence and animal cruelty. The offer services and assistance to victims of domestic violence with pets in Georgia and work to raise awareness of this connection in communities throughout the state. For more information, go to ahimsahouse.org.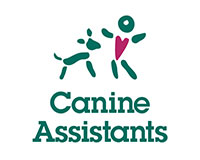 Canine Assistants
During the third quarter, our collection efforts enable Canine Assistants to further their mission. Canine Assistants trains and provides service dogs to enhance and improve the lives of children and adults who have physical disabilities, seizure conditions or other special needs. Learn more about them at canineassistants.org.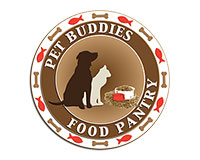 Pet Buddies
At Thanksgiving time, South Forysth Animal Hospital holds a food drive to benefit Pet Buddies Food Pantry. Pet Buddies is a non-profit organization that provides pet food, supplies, spay and neuter services, and education through community outreach programs to families who have difficulty providing for their pets due to financial burdens. To learn more, visit their website at petbuddiesfoodpantry.org.