Congratulations Matthew!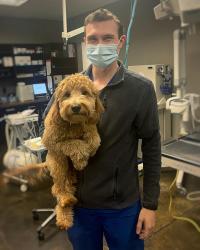 Matthew started working with us in June of 2021 and has been in the animal field for 4 years. You may have seen him around helping the doctors and technicians with your furry friends during exams and assisting during surgeries. He will be leaving us at the end of March but for a very good reason. He was accepted into Texas A&M College of Veterinary Medicine! As sad as we are to see him go, we are very excited for this new chapter in his life. If you see him around the hospital please give him a big congratulations!
We are so proud of you Matthew!